Motherhood Workshop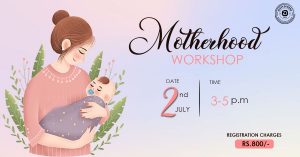 Have you recently had your first baby and are finding that motherhood is different from how you expected it to be?
We often lose sight of our own needs when we are a mom and as well as looking at the challenges parenting brings, we will talk about ways you can look after yourself and your newborn.
This workshop provides a safe and non-judgmental way to discuss the demands of motherhood and awareness about mother and child healthcare.