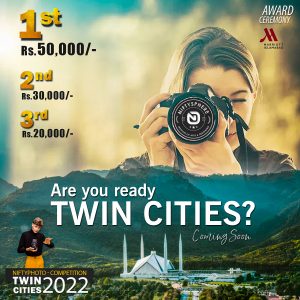 NIfty Sphere Institute of Arts and Designing is going to arrange a photography competition.
-In this competition, all photographers (professional and amateur) are welcome to participate and showcase their talent.
-A participation certificate will be given to all of the photographers, who will take part in it.
-Three winners will be announced and a cash prize will be given to them.
-The winner announcement ceremony will be held at Islamabad Marriott Hotel. Where the well-known and skillful photographers will be on the
judging panel.
-In the winner announcement ceremony, the most privileged and honored personalities are invited as a guest.
Further details regarding the event date and registration will be shared soon.
For questions and queries,
contact: 051-8740985, 0303-5242260, 0321-5127163, 0345-0980879, 0331-5098087
Or visit: Office 1-5, Royal Arcade Plaza, E11/3 Multi Markaz, Islamabad