Self Defense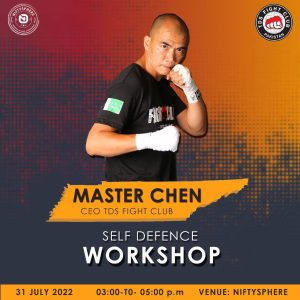 Self Defense Workshop
NIFTYSPHERE Institute of Arts & Designing is conducting a Self Defense Workshop in which Master Chen will guide the participants through some of the basic and important self defense techniques.
Master Chen is the Owner/Founder and Headcoach at Tds Fight Club. He teaches Crossfit, Mix Martial Art Style such as Boxing, Kickboxing and Jiu Jitsu. He also teaches Kung Fu and Knife Defense.
Born Chinese and growing up in Pakistan he is the only Chinese who runs clubs in Pakistan and has over thousands of students all around the world. He is General Secretary of the Federal Wushu Kung Fu Association , X-Army Wushu Coach, International Wushu Federation License holder Judge and Referee. One of the Pioneers of Pakistan Mix Martial Art. He has been teaching martial arts for more than 35 years.